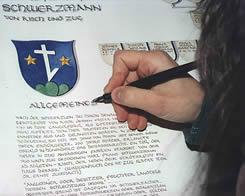 Hello,
You probably arrived here because you are searching for a coat of arms or because you need help with a new design or painting or other Heraldry related artwork.

I can help!
With decades of professional experience I have designed and painted Coat of Arms, Crests, Family Trees for individuals, families, businesses, organizations, military and nobility around the world. I can transform your ideas into beautiful designs or paintings and provide a variety of genres, media and artistic styles. I work both in traditional and digital media and my digital artwork is available in a variety of high resolution file formats.
I offer a wide range of artistic and design services related to Heraldry. It is difficult to estimate art projects blindly and projects can range anywhere from U$150.00 to U$2500.00 or higher. Prices may vary greatly depending on amount of drafts, revisions, design options, detail, complexity or size of the design or painting. Please check the Pricing Guide or request a FREE Consultation to receive a commission specific estimate.
Delivery & High Workloads
All my work is done manually on a FIRST COME, FIRST SERVED basis. The length of time from start to completion depends on EXISTING WORKLOAD, SIZE, COMPLEXITY and DETAIL of artwork. For example if there are several ongoing projects my focus will be to complete those. When new commissions arrives the work will start but proceed slowly until earlier projects are complete or near completion. At times of high workload new commissions will go on a "waiting list". To be added to the "waiting listed" means you have confirmed your intent and submitted your order. It is highly recommended that you do this months ahead of the date you need the artwork completed.
Artistic Services
Designs & Paintings
Coat of Arms from description or blazon.
Emblems, Seals, Marks or Monograms.
New renditions of existing Coat of Arms.
Restorations of existing Coat of Arms.
Family Tree designs or paintings.
Heraldry or medieval inspired artwork
Artistic Media & Styles
For anything not on this list or questions please request a Free Consultation.